Shiels Sights was formed in the early 1980's in Great Britain. They have a proven track record in developing innovative products.
30 Years on, they are now one of the leading providers passionate about rapid target acquisition and engagement, SHIELD continues to design, implement and manufacture products that enable shooters to "Hit the Target Earlier".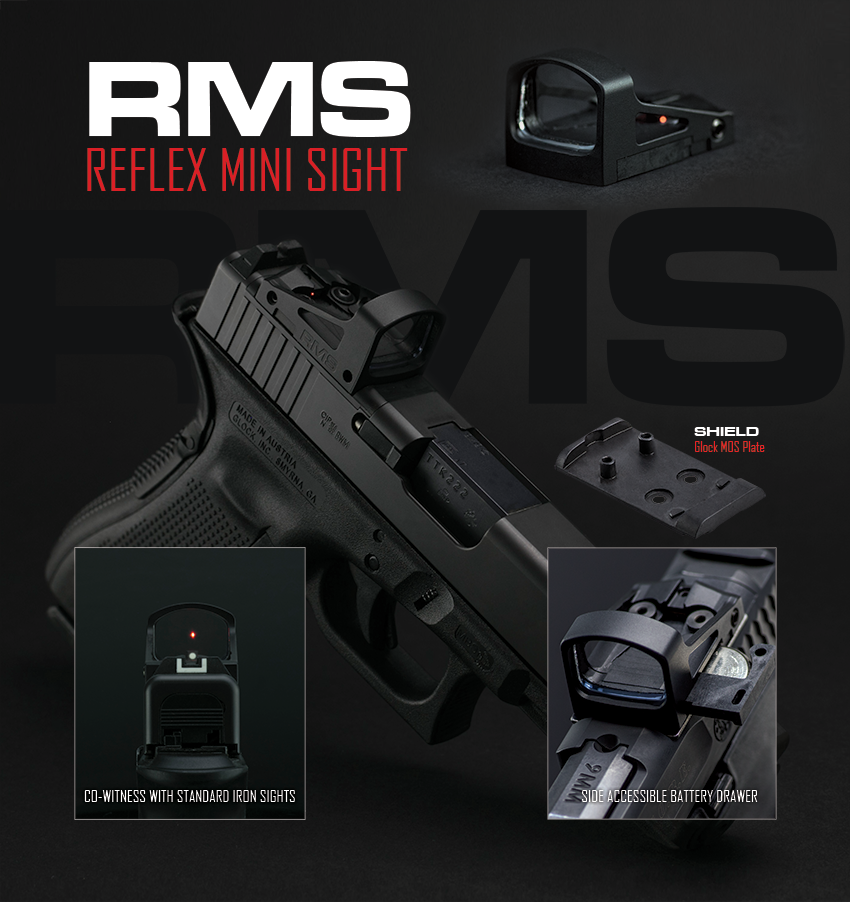 SHIELD SIGHTS MINI SIGHT – SMS
The world's original, smallest, lightest, toughest mini day / night sight for all military, law enforcement and sporting small arms. With over 100,000 delivered to date, Shield Sights Mini has a proven track record. 
Over 15,000 units are in use by the British regular army and Special Forces, as well as US, Australian, New Zealand Special Forces and other NATO forces. Also used by competitive sports men and women across the globe.  Shoot early with both eyes open, hit early whilst providing large peripheral vision.
The SMS was designed originally for use with pistols and has since evolved into an all round optic.
Parallax free, clear polymer optic, which can withstand up to ten times greater shock impact than products using glass optics.
Unlike many competing products, the MiniSight is designed without a red reflective filter on the lens to ensure minimal visual signature.
The sight body is moulded from a lightweight polymer which, in testing, has proven to be more resilient than other reflex sights produced by our competitors.
Variable intensity drive circuit that senses target light levels and controls LED output giving optimum visibility of the dot against the target.
Available in different dot sizes, tailored to your application
REFLEX MINI SIGHT – RMS
The RMS has been brought to market and developed from customer feedback which showed a desire for a metal design.  All the same features as the SMS with the sight body made from aerospace-grade aluminum with an anodized matte black finish.
The RMS fits all mounts readily available for the SMS. The RMS is available with an optional battery draw that allows you to change the battery without having to unmount the sight.
Dot sizes available in stock:
4MOA (4" at 100 yards)
8MOA (8" at 100 yards)
Technical Specifications
Optical characteristics
Light Source: Red light emitting diode (LED) No laser; completely eye safe No radioactive materials
Red Dot Size Options: 4 MOA dot 8 MOA dot
Lens: Reflex x1 (no magnification)
Lens Coating: Anti-reflection No coloured coating, minimises visible signature
Electronics
Battery: One 3V lithium battery, CR2032
Battery Life:  2 to 3 years – average use >4 years – dark storage
Brightness Adjustment: Automatic
Brightness Range: Lowest – Compatible with Night Vision: Highest – Visible against the sky in bright daylight
Exterior
Housing material: Aluminium
Colour: Matte black
Dimensions: Sight only (Length x width x height) 42 x 25 x 23 mm 1.7 x 1.0 x 0.9 inches
Weight: 17.5 grams / 0.61 ounces
Mount: A wide range of mounts are available
SWITCHABLE INTERFACE SIGHT – SIS (CD – CENTRE DOT)
Offers 4 switchable options on an SIS Centre Dot reticule. 
Brightness control – Switch to Automatic mode or manual levels
Manual with 12 stage adjustment from High to Night Vision
Automatic with 3 levels – High, Medium or Low.
To purchase any of these sights please contact us.